Bitcoin is the resounding leader of the cryptocurrencies. The movement in the coin laid a vital impact on the coins. Recently, BTC is spotted booking colossal improvement, and the same is likely to bring the rally soon. The intraday trading would bring massive returns to the traders. The coming period also looks good for Bitcoin, and thus the investment wouldn't end up futile.
BTC/USD Forecast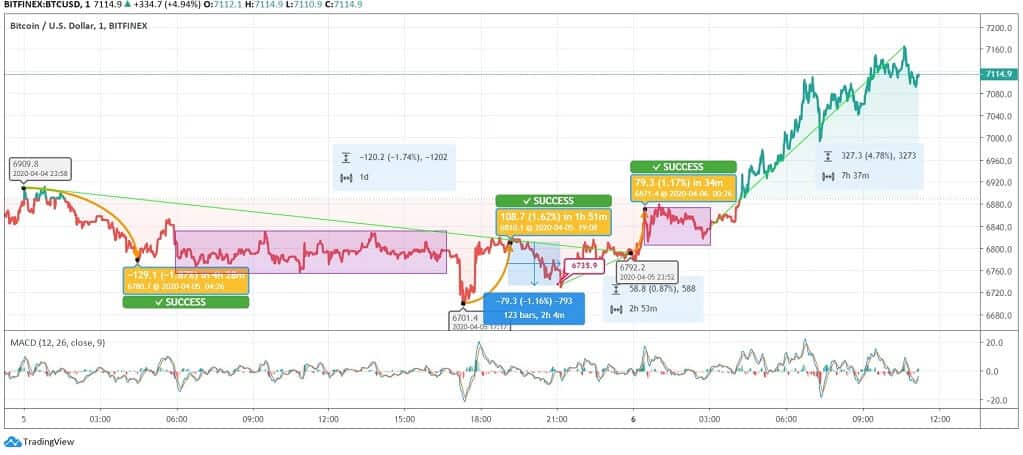 Since the beginning of this month, Bitcoin trades with moderate upside momentum. Yesterday, the currency started dealing at $6,909, and within the next 4 hours, the price dribbled to $6,780 by 1.87% fall. With a spike at $6,840, the coin was spotted, locking its price level around $6,700 for almost 10 hours. At 17:17 UTC, BTC price plunged to $6,701. Then in the next 1 hour and 51 minutes, the price improved to $6,810 by 1.62%. Later, the price slipped to $6,735 by 1.16%. The closing hour of the day took the Bitcoin price to $6,792. The intraday movement reflected 1.74% regression.
Today, BTC started the day with an escalation of 1.17%. The price moved from $6,792 to $6,871. The coin locked at the same level before escalating. At 03:00 UTC, the coin marked a sharp upward move, and thus at 10:36 UTC, the Bitcoin price was at $7,160 by a 4.78% surge. At the time of writing BTC analysis, the price was trading at $7,124 and violated the immediate resistance level at $6,877 and the next resistance level at $6,964 and major resistance level at $7,045.