The past week has seen the Bitcoin price moving stupendously in the upward range, even under the continual bearish influence. The coin has been moving in the range between $6680 – $7402 over this period. Yesterday, BTC faced steep fall, and as per its movement, it was likely to fall around $7k, but today, it recovers tremendously and regains $7.3k price mark.
Bitcoin Price Analysis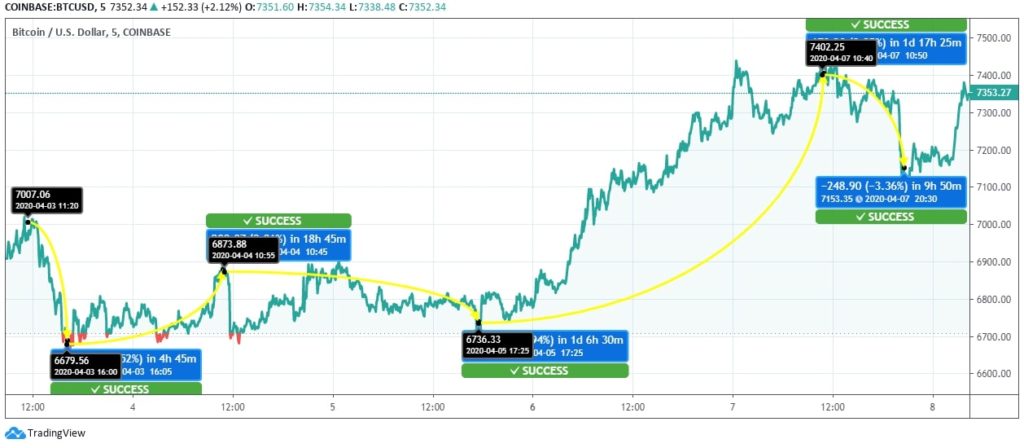 BTC/USD has shown a tremendous upward momentum over the past week, even under a strong bearish outlook. The coin was at $7007.06 on April 03. With the ongoing bearish volatility, the price of Bitcoin went on a downward swing to $6679.56 on the same day, showing a fall of 4.52%. On the next day, the coin marked moderate recovery and traded to $6873.88 by 3.01% hike. However, the currency again faced bearish hold and went down to $6736.33 on April 05.
Further, from this low, Bitcoin took an upward swing and reached a high of $7402.25 yesterday, showing a price rally to the extent of 9.95%. However, at this high, BTC faced rejection and traded downwards and fell to $7153.35. Then, again it marked a steep hike and traded in the upward direction and reached $7353.27 today.
BTC price has shown its mettle even under ongoing volatility. Analysts have always banked on the capability of this coin to deliver great returns and consider it the best bet for the long haul. Investors can continue to hold on to their investments from a long-term perspective.