The global crypto market crashed in the last two days after the announcement that Binance signed a non-binding agreement to buy FTX to resolve the liquidity crunch on the FTX exchange. After the long consolidation phase, investors are worried about the future of cryptocurrency, so they are pulling out the money and saving it in a safer asset rather than investing in cryptocurrency.
Many experts observe it as an emergency exit from the world of cryptocurrencies due to low liquidity, even in popular exchanges like FTX. Many experts think the US Fed's regular rate hike may affect the crypto market even in the next year because cryptos are riskier digital assets, but global markets are prepared for these rate hikes.
Markets might observe a long-term effect because after the regular rate hike, investors will get secure and better profit in government bonds, so they will invest more in safer bonds instead of relying on riskier digital assets. Experts also believe that crypto markets might see another outflow next year, decreasing the overall market cap.
Although investors are not sure about the Binance-FTX deal, this double-digit loss in the last 48 hours is a result of Binance-led selling pressure for the short term.
It could be an ideal time to accumulate more BTC because it has tested the yearly low of $16k. However, if you do not have much capital as a retail investor, you should wait until it forms support in the long-term timeframe.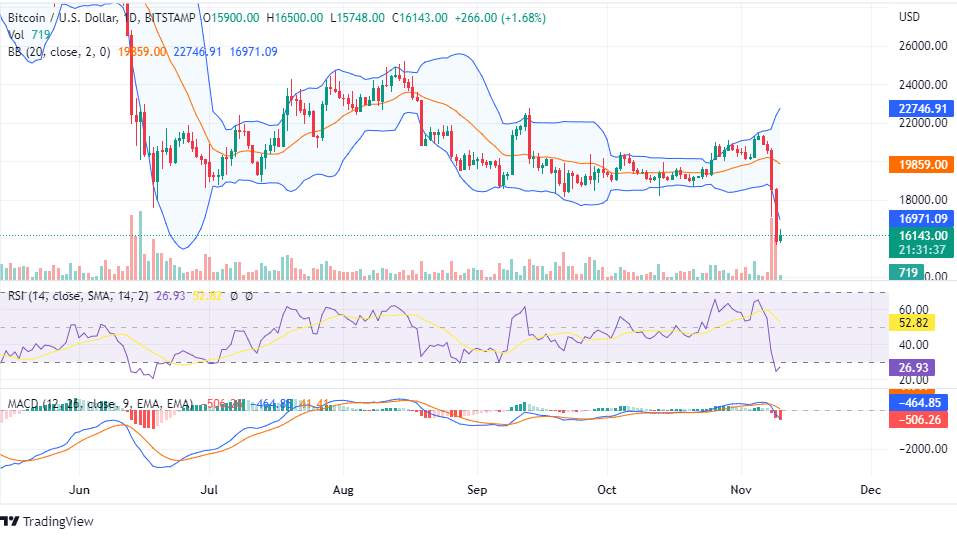 On the daily chart, $18,800 was strong support for BTC, but it broke the support yesterday, and currently, it is trading around $16,143. In the last two days, Bitcoin has plunged more than 15%, which could be a massive blow for BTC investors, especially retail traders.
After a long consolidation phase, investors became optimistic because of different external factors. The BTC price was also forming higher highs in the last two weeks, but now it is trading below the lower Bollinger Bands, and most other technical indicators are extremely bearish.
On the weekly chart, Bitcoin has been forming lower highs and lower lows, and it has broken the long-term support that suggests it might test the lower level of $10,000 in the next few months. You should wait until it forms another support on the weekly chart. It is not an ideal time for a fresh investment.